01 Mar

Using artificial intelligence to assassinate high value target

Blog by Oluwasegun Oke

From simple beginnings to present-day real-life problem-solving scenarios, artificial intelligence has indeed crossed many boundaries and achieved privileged milestones. Speaking of phenomenal contributions to decision-making processes, across newly emerging markets, as it continues to be dominating more traditional challenges. 

What was once under the microscope, also in wraps of experimental test cases, has suddenly spread its evolving wings into the gridlines of top military missions and airspaces of international territories. Also, more and more military espionage has taken place over the last decades, utilizing improved high-tech drones, that are able to navigate even tough airspaces under constrained surveillance, to take important pictures of mostly unlawful convergence, extreme groups active formations, and other related anti-democratic movements. These unmanned combat aerial vehicles (drones), which are fully kitted with remote-controlled killer machine guns, are leading and winning different fights, as well as gaining ground, even among extreme groups.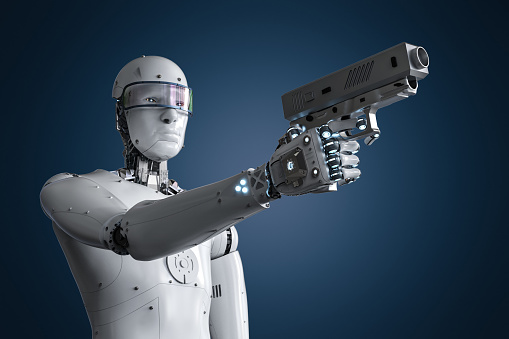 What started out as a sustained advancement to create big data-enabled business intelligence, is gradually shifting its course, and spreading campaigns of small groups and sovereign states forces military objectives, to restrain and control all forms of illegal activities, unwholesome assemblies, acts of war, and mass production of nuclear weapons, towards safeguarding, and maintaining a truly harmonized and peaceful world. This includes taking cognizance of international diplomatic laws, embracing signed international treaties, across threatened borders, and respecting human rights, along with other political instruments, put in place to investigate, broaden knowledge, and extract fresh intelligence about a particular critical development. 
Considering the current alarming rate of light and heavy arms proliferation, across the world. Controlling smuggled weapons has become an utmost agenda, especially, in developed countries. Without this measure, even strong instruments, put in place, maybe compromised, by unknown means, leading to sabotage of international efforts. And such was the case of the well-documented assassination of the top scientist of Iran's Nuclear Weapon Development program, who had for so long, become a high target, for the National Intelligence Agency of Israel (the Mossad). 
AI-assisted Assassination of the Lead Scientist of Iran's Nuclear Weapon Program
For close to 18 years, since early 2000, Israel's foreign intelligence agency had put a close watch and hefty prize tag on Mr. Mohsen Fakhrizadeh, with a clear motive to assassinate him. Several attempts had gone unnoticed, and better still futile, so much that he no longer considered any threat to his life, good enough to instigate fear or crave his precious attention. To the point of even overlooking most of his security protocols, in exchange for a simple lifestyle, dedicated to maintaining the organic growth of his beloved family, launching new programs, and in fewer curious times, reading intriguing pleasures of art. 
Until a unique plot that took place on November 7, 2020, based on the deployment of a remote AI-controlled robotic machine gun, of which lethal doses of bullets, were raged out in motion. He was eventually marked out for the kill when he left his vacation house for a country home near Absard, east of Tehran. The countryside is known to be home to well-off residents and prominently positioned Iranian elites. 
A 7.62-mm sniper machine gun, with the high-tech camera lens, powered by AI and operated via satellite, had been covered under tarpaulins, within the truck bed of a Nissan Zamyad pick up the vehicle, parked on the sideline of the long road, linking Absard to the highway of other interlocking towns. Interestingly, the about-to-be launched attack was listed out by a group of Iranian agents, who were working with Israel's foreign intelligence agency (the Mossad) and providing them with new loops of developments, in regard to Mr. Fakhrizadeh's day-to-day activities, and locations.
The assassin was already anticipating another fulfilling day, stationed more than 1000 miles away from the road where the robotic AI-assisted machine gun was set up. The cameras have already zoomed out in broad daylight, all escorts' moving vehicles, and in particular the targets, all clearly defined, in one view. With his eyes as sharp as the guns' attached sensor, he rounded off, by activating and virtually pulling back on the distant trigger. The following disruption was centered on identifying the target's (Mr. Fakhrizade) driven vehicle and managing the chaos to cause a diversion while releasing spurts of bullets, along the highway, connected to Absurd.
And as planned, a few rounds were successful, and this prevented his car from going further, so the Iran revolutionary guards stormed out of their armed vehicles, but could not identify any danger, nor the location of the apparent sharpshooter. Further release of live bullets, from the remotely computerized robotic machine, exposed the target to terrible harm, and he in due course, tried to escape into a nearby location. Unfortunately, the streak of previous failed assassination attempts on his life has run out, and was far from reckoning, after the view of the gun's camera eyes confirmed his identity. In the end, succumbed to faith, when another live bullet, tore through his spine. 
Upon a successful mission, the next move was to blow up into unrecognizable pieces, the truck parked by the side of the road, together with its undetected satellite-controlled advanced military tool, hidden underneath. Since the AI-assisted machine gun's classified details must not be compromised. However in the aftermath of the explosion, what remained was recognizable, and the Iran side soon realized that the involved assassin was far away from the scene of the incident. They were able to piece together the almost intact remnants of the AI-assisted satellite machine gun, for further investigation. 
Drones as Dependable Autonomous Weapon Systems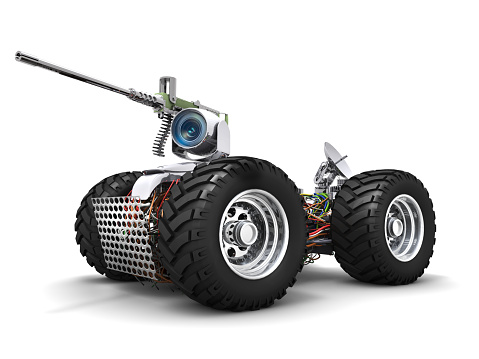 Over the last decades, a lot of semis and a few fully autonomous (acting independently) drones have been developed to explore international air spaces, zooming out foreign landscapes, in detail, to identify and engage targets, utilizing AI-assisted technology. 
 Turkish Kargu-2
One of the most sophisticated and equally effective drones of this era. Developed by STM, based in Turkey, it is able to navigate any difficult terrain, and achieve great success throughout even the most escalated military operations, with both a remote human controller (semi-autonomy) and likewise on its own (once launched, it becomes full autonomous). Its unique design was acclaimed as a worldwide achievement, for not requiring data to connect its munition with any targets.
Drones Usage in the Prolonged Military War to Control Nagorno-Karabakh Region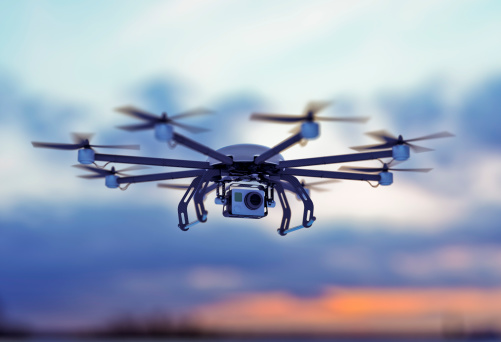 A violent and intensely engaging 44-day war had broken out between Armenia and Azerbaijan, with the Nagorno-Karabakh region, up for taking, once more. Even though it was at one point, a part of Azerbaijan, military tension had reached its brim against the opposition's security forces. This way, the Armenian government had been able to settle in and gained significant superpower status, in the destruction of their adversaries, upon the end of the previous war. And most importantly, the region was now being occupied by a sparsely distributed resident, of Armenian origins.
As the renewed war escalated into more territories, with both sides advancing. In the chaos, Azerbaijan was at this time more equipped with better modern and sophisticated tools, to cancel out any chance of a prolonged war, and most of all, to obliterate all opposition advances. And just midway into the war, the Azerbaijan military had used ruthless technical maneuvering, coupled with AI-powered drones that overwhelmed and exposed the line-up of their opposition, through consistent airstrikes. The financial power and classic military formation, put forward by the president of Azerbaijan to put to rest the agelong territorial tension, has paid off. With this, he enforced its side with several modern unmanned combat aerial vehicles (TB2 drones), purchased from turkey, a faithful ally to his government. 
And before long, this AI-powered war front of Azerbaijan would later rewrite history, by recapturing their lost territory, while fully meeting one after the other, their full objectives and military take-over, while spelling out the total annihilation of opposition strategies, arteries. With its foot soldiers, marching forward, and hoisting Azerbaijan national flags, in every conquest achieved, most especially in memory of all previously lost comrades, and likewise already recorded casualties, suffered by Azerbaijan soldiers, caused by long-range shots of rockers, landing and shelling to the ground, all lined up security forces. Even though, the impact of Azerbaijan's new fleets of high tech re remote control TB2 drones appeared to have produced a one-sided war and had likewise helped Azerbaijan troops to re-established access into more grounds of their enemies, in the intensely bombarded disputed region, while further destruction of newly erected commercial ventures and community infrastructures raged on, unabated. 
Unfortunately, this upper hand, made possible by Turkish-produced armed drones, indirectly deescalates every fight and cut short every installed resistance put up to counter the drone's attack, with over 1 billion dollars worth of Armenian artilleries completely blown up, and destroyed. These include heavy ground warfare, with long-distance reach capabilities, in addition to several units of T-72 tanks and advanced S-300 air defense systems, which Armenian inherited from the Soviet Union, following its disintegration, along with several Iskander units, it purchased from Russia, in 2016. This pre-destined historical warfare was later to be disrupted through diplomatic instruments, set in motion, by the Russian government, to perhaps stop what could have resulted in the most bizarre humanitarian catastrophe of all time. It must however be noted that the same war could have lasted for months or even decades, given the mobilization and reinforcement with more young Armenian citizens, about to join forces, in the full scale of the war.
But in the end, the swift accuracy and overwhelming precision, coupled with the effectiveness of the foe with armed remote control AI-powered drones, de-escalated the war, sooner than expected. As the armed drones were able to navigate across a large expanse of foreign airspaces, to rain downbursts of devastating missiles against any identified targets, while circumventing opponents' flurries of anti-attack defense systems. And just to state that the last impact of the traveling drone's missiles, after release, is always guided by a laser, towards the already identified target, even if they are in motion, or stationary.  
The Legal and Ethical Implications of unmanned Combat Aerial Vehicles (Armed Drones)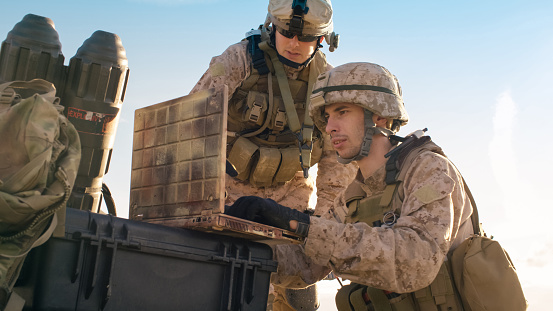 Since the idea of more advanced drones moving towards not having to be partially controlled remotely by any human operator (achieving full autonomy), had been raised, over a couple of years back. There have been widespread campaigns, mostly by NGOs and small groups of stakeholders, to put a permanent disruption to any further production, so as to reflect on its untimeliness, retrieve back previous steps, and consider other possible negative future impacts, as well as alarming close implications. One of which revolves around who should be responsible in case of unforeseen misfiring and human casualties, in the event of any algorithm biases, and other possible fundamental flaws, that may prove fatal. 
With even a final view that drones must be prohibited from deciding who dies or lives on battlegrounds. Since they lack empathy and are also hardwired to never attract any zero value to human lives. 
The aim of the above initiative is to leave drones to navigate through airspaces and also identify targets, while only human operators should be allowed to make the final decision, of eliminating targets, in order to avoid possible errors, that may lead to both unwanted casualties and large-scale extermination of human settlements.
The Benefits of Incorporating AI into Designing Military Weapons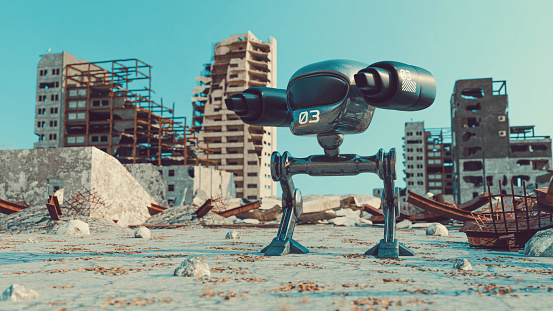 They are a number of advantages in incorporating AI into designing advanced military weapons, and they include:
Developing Autonomous Weapons

Creating Weapons with a high degree of precision and effectiveness

Exponential Reduction in needed Gunners or Reduction in Possible fatality, while in Humvees, moving around war Territories.
Developing Autonomous Weapons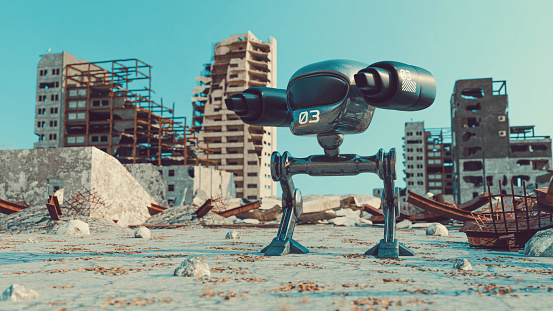 Military intelligence of the United States, Israel, India, among others, have in recent years achieved incredible milestones, leveraging on remote control satellite operated machine guns to detect moving enemies' trails, identify targets and carry out successful attacks, with largely sophisticated preprogrammed, AI, powered systems, in this instance, using drones. This approach is usually based on the availability of big data of such territories, simulated through AI algorithms, to design, manufacture, launch weapons, and assassinate or destroy targets, without risking any casualties on battlegrounds, in possible violent extraction of foreign aid workers, captured soldiers, and espionage missions, among others.
AI Creates Weapons with high Degree of Precision and Effectiveness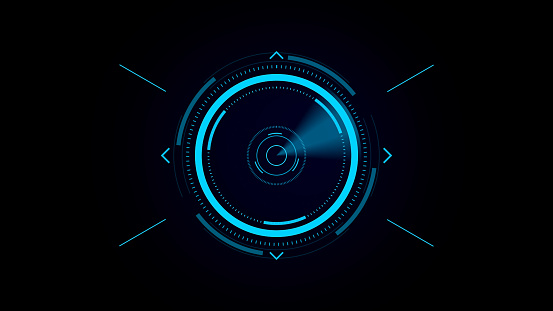 AI-assisted weapons are known to demonstrate high precision against any target, under the most adverse weather conditions, and no matter how great the distance, in miles, nor the time required to carry out attacks. For instance, only 16 bullets were recounted to be released from the remote-controlled satellite-operated machine gun that assassinate the top Iranian scientist. His wife, who was seated next to him, in the back seat, was unhurt, and out of target range, before the first set of rounds were fired. This is a very interesting feature that presents defense intelligence in developed climes that are looking to explore to a logical and conclusive end. And if present efforts go according to plan, no incident of stray bullets would ever again be recorded in human history, through civilian casualties, which are often centered on investigations and directed to fish out culprits, in high profile manhunt for criminals. 
Exponential Reduction in Gunners' Fatality, while in Humvees, Moving around War Territories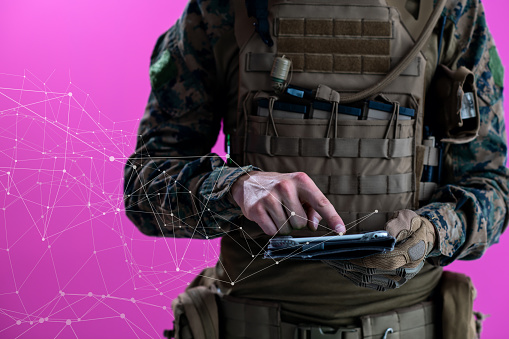 AI-controlled machine guns were once designed by the United States Marine Force to replace gunners, who used to stand behind, and operate high caliber war guns, usually mounted on top of humvees, directed to surveillance purposes, and likewise in advancing into target borders, across Iraq. These previously susceptible marines now operate the same weapon, while in their respective humvees – unexposed to danger. It once more showcased to the world, the strength of AI technology to automate seamlessly, replace repetitive tasks, and leverage on remote solutions, that are highly efficient, widely adaptable, and provident. Besides, it puts out ferocious bullets between a particular lag time, and hits targets accurately, even while they are about to reach their next positioning.